More about Marilyn L Taylor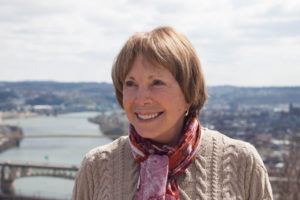 Thank you for visiting my website!  I'm Marilyn Taylor, former Poet Laureate of the state of Wisconsin (2009-2010) and the city of Milwaukee (2004-2005).
I was raised in Whitefish Bay, went to West High School in Madison, but lived for 40 years in Milwaukee, where I taught poetry for the English Department and the Honors College at the University of Wisconsin-Milwaukee.  Following the death of my husband Allen in 2012, I moved to Madison,  where I continue to  write, teach, and spend time hobnobbing with some of the extraordinary poets who also call Wisconsin home.  I live with my poet-husband Dave Scheler, and I'm also fortunate enough to have a brilliant son (Reed), an equally brilliant daughter-in-law (Jessica), and two splendid grandsons: Max, age 7, and Finn, 4.  They live in Pittsburgh, which is where the photo above (as you may have gathered) was taken.
I very much enjoy facilitating independent poetry workshops, readings, and presentations locally, statewide, and elsewhere.  These have included programs sponsored by Lawrence University's Bjorklunden Seminar Center in Baileys Harbor, WI (ongoing), Poetry by the Sea in Madison, Connecticut (also ongoing), and formerly at Western Colorado University (Gunnison, CO); West Chester University Poetry Center; UW-Madison's Writers Institute; Road Scholar at  Green Lake, Wisconsin; and for the Write by the Lake Conference sponsored by the UW Division of Continuing Studies.
To contact me for a presentation or to purchase books, it would be easiest to simply drop me an email at mlt@mltpoet.com